We kicked off 'Sippin' on Scripture' this last Thursday at Wolfgang's Thirst Parlor and Tap House.  The beer was flowing, and the Baked-n-Loaded Potatoes food truck was there for anyone that was hungry.  Sixteen Brother Knights, wives, and community members participated.  Deacon Geoff Schmitt discussed "Being a Person of Prayer".  It was a thought-provoking discussion leading to lots of questions and some excellent take-aways.  The fellowship before and after the talk was also special, and the feedback about the event was very positive.  Thanks to Alan and Quonna Bender of Wolfgang's for hosting us!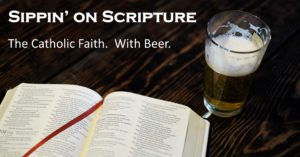 About Sippin on Scripture
'Sippin' on Scripture' is a chance for our community to join in a casual atmosphere to discuss Catholic theology and spirituality.  Each session will be led by Deacon Geoff Schmitt of Immaculate Conception Catholic Church in Stayton.  Anyone who's spoken to Deacon Geoff, listened to his homilies, or attended the events he leads knows that he's both well-versed and passionate about our faith.
Look for future events
Our intent is to make this a regular event, open to the entire community.  We intend to settle on a schedule and future topics over the next couple of weeks.  Please check kofc2439.org/sippin in the coming days for more information, including a schedule of future Sippin' on Scripture events.