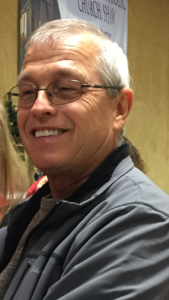 Dan King has been a Brother Knight since joining our council in April 2018. Dan currently serves as Chancellor, and is leading our 2019 membership drive (Delta Drive) across all 6 parishes that we serve.
Dan grew up on a number of diary farms in Washington. His family moved to Monmouth Oregon to farm his senior year in high school. He had a teacher his freshman-junior year who encouraged him to become a teacher. Dan realized he wasn't interested in diary farming for the rest of his life, so off to college he went.
Dan received a BA in elementary education. He taught 3rd, 4th or 5th grade for Seaside school district for 37 years. Dan says he has "thoroughly enjoyed my career. I felt I had an opportunity to make a difference in children's lives."
Dan was baptized at an early age in a Christian church. His parents were active in the church and raised their children with Christian values. Dan's wife Kris is a cradle catholic, and they raised their children in the Catholic Church.
In 1999 he began the RCIA Instructional program, and in Easter of 2000 entered the Catholic Church. Dan described that time, "I felt at that point in my teaching career and my life in general, I was more grounded, relaxed and at peace."
About 6 years ago Dan celebrated Mass at St. Boniface. "We sensed the strong Catholic faith community, there was a feeling of security, family and love. My wife and I decided Sublimity was the place to retire. A year and a half ago we moved to Sublimity and have made this our home. We have been blessed with kindness and an outreach of support from this community."
Why are you a Knight?
"I joined the Knights of Columbus for several reasons. For one, I joined because my father-in-law has been a member of the Albany Knights of Columbus for over fifty years. He would talk about some of the activities he was involved in and it sounded like a positive way to spend my free time when I retired. While raising my family I had two part time jobs in addition to my teaching career, this allowed my wife to stay home with our 3 kids. When I retired we moved to Sublimity. My son was a member of the Knight of Columbus so the thought of spending more time with him was another great reason to join. Lastly I wanted to be around men that shared some of the same family values and would encourage me to uphold those values in my own home."