[
publicize
 off]
Council 2439 members,
A quick update on the support for Nicole Wilcox and her family (refer to the most recent St. Boniface Bulletin). I dropped off the $200 VISA card to St. Boniface for delivery to Nicole. I also discussed the situation with the SIT (Santiam Service Integration Team) Manager Melissa Bauer. She has engaged the Cascade SIT team since Nicole is in the Cascade school district. The Cascade team is getting Nicole connecting with service organizations including the Oregon Health Plan, SNAP, and TANF. Since Nicole is an experienced nurse I also spoke with the hospital about considering her for a nursing position.
I believe Brothers Kendall Smith and Dan Goffin were checking to see if they had access to household goods and bedding to be dropped off at St. Boniface.
As a reminder, here is the information on Nicole from the St. Boniface bulletin.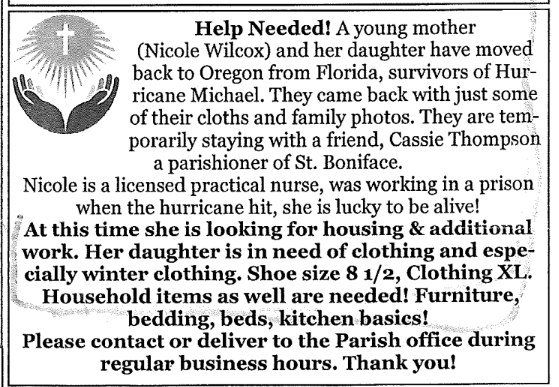 KNIGHTS IN ACTION!