In 2018 our council joined the North Santiam Service Integration Team, or SIT.  I've been asked several times "What's the SIT?" so I thought a post might be useful.
Coordinating multiple community service organizations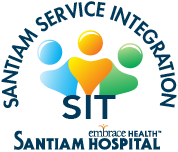 The North Santiam Service Integration Team is part of the Santiam Service Integration Program, which serves as a safety net by facilitating resources and information for individuals and families in need of assistance.  The program coordinates community providers and services to identify needs, find solutions, and avoid duplication of services.
The SIT is comprised of agency and community service organizations including local school districts, faith communities, businesses, non-profits, childhood providers, community volunteers, law enforcement, and other parties interested in efficiently and effectively serving those most in need.  The program is led by Melissa Bauer.  Melissa has done an amazing job starting the Santiam SIT from scratch in 2017.  She is dedicated full-time to the SIT with her salary covered by Santiam Hospital.
A typical situation involves one service organization coming to the SIT for help filling gaps in their own services.  For example, one organization may help with housing, but they are unable to help pay utility bills.  Another can help with work training, but can't provide bedding and furniture.
Serving a vital role in the community
To understand the vital role the SIT plays, try walking in the shoes of someone in need for a moment:  Imagine you are a young mother in Stayton.  Your husband just ran out on you and left you with no vehicle.  You can just barely cover rent, food, and utilities on your income, but your hours were recently cut temporarily.  You are now a month behind on rent, your son has grown out of his shoes, and your heater just failed.  Where can you turn for support if your own family is not in a position to help?  The SIT can coordinate the efforts of multiple organizations, each filling a key role in meeting the temporary needs of your family.
The Santiam SIT is comprised of three teams:  The North Santiam team serving Stayton & Sublimity; the Santiam Canyon team serving Mill City, Gates, Detroit, and Idanha; and the Cascade Team serving Turner, Aumsville, Marion, and some of Salem.  I am honored to represent our Knights St. Anthony Council 2439 on the North Santiam Team.
Our team includes representatives from The Salvation Army, Stayton Community Food Bank, United Way of the Mid-Willamette Valley, Catholic Community Services, Stayton School District, Stayton Police, Foothills Church, and many other organizations that serve members of our community.
One family at a time
The SIT is helping people one individual and one family at a time.  A typical case involves a person or family that is having a rough go of things despite their best efforts.  The SIT performs a lot of due diligence to assure that the person or family qualifies for support.  Our council is there to support cases that align with our organizations core values – our Catholic faith teaches us to "Love thy neighbor as thyself."   Doing good works with SIT is one way we serve.
Here are some of the ways that our council helped in 2018:
In August we co-sponsored a 'back to school' event for the North Santiam School District.  Our funds, along with those of several other community organizations, were used to purchase school supplies.
In October we assisted a single mom who was getting her kids back – for the last 11 years her children had been in foster care.  She worked hard to get her kids back, completing coursework and training required by the state.  Our Council provided funds for sheets and pillows for the kids while other SIT members covered the costs for beds and mattresses.
In November we helped a young single mom catch up on her bills.  Her husband died a year ago and she's raising her 4-1/2 year old on her own.  For a number of complicated reasons she did not qualify for some state benefits.  She was getting by on her own until her hours were cut at work, and she got behind on her rent.  She worked with SIT to establish a plan for sustainability, and our council along with several other organizations came up with the funds to get her current on rent and utilities.
In December our council presented a case to the SIT.  A parishioner at St. Boniface has a young mom and daughter living with her.  The mom and daughter survived Hurricane Michael in Florida with just some clothes and family photos – everything else was lost.  They moved back to Oregon to start over.  We got her in touch with the Cascade team who is now providing assistance.  And our council provided a prepaid VISA card so she can purchase basic household items and clothes for her daughter.
The SIT is just one more way that our St. Anthony Council is making a difference in our community, one family at a time.

If you are interested in representing our council on either the Santiam Canyon or Cascade teams let me know and I will get you connected!
Ed Diehl
Related Links:
Santiam SIT Home Page – http://santiamhospital.org/sit.php
Hospital Announcement on SIT formation – http://santiamhospital.org/_pdf/Press-Release-Announcing-SIT.pdf
North Santiam SIT 2018-2018 report – http://santiamhospital.org/_pdf/North%20Santiam%20SIT%20report%202.pdf