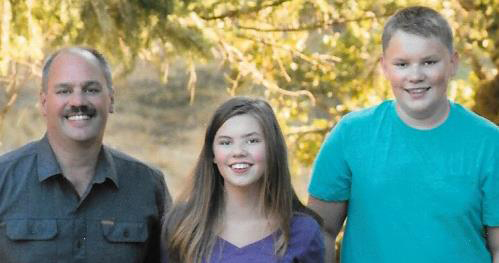 Glenn Hilton and family have been selected for our April Family of the Month.  Glenn is a parishioner at Immaculate Conception in Stayton.  He's been a Knight since 2005, and a member of the St. Anthony Council 2439 for 15 years.  "The fellowship of the brotherhood" is why Glenn became and continues to be a Knight.
Among the many causes we have as a council, the churches and schools are what Glenn is most passionate about.  Glenn has supported many of our social and fundraising activities, including our Annual Christmas Community Service Celebration, road cleanup, and in the past our steak fry events.
Glenn lost his wife Andrea to a long, courageous fight against breast cancer in 2019.
Glenn has lived in Stayton his entire life.  He's served as a funeral director for over 35 years, and has owned and operated North Santiam Funeral Service since 2005.  He enjoys hiking, hunting, fishing, and being with his children Adam and Ella.
"Both Adam and Ella have served at Mass at our church.", says Glenn.  "Ella enjoys volleyball.  Adam will be in track this year, and he has also been involved in the plays at Regis."  Glenn goes on to say that "My son enjoys reading and video games, and my daughter enjoys snap chatting.  We try and attend the Star Cinema Movie Theatre on a regular basis."
---
About Family of the Month
Each month our Family Committee selects one parish family that models Christian family values and visibly lives them every day.  The Family of the Month program promotes and supports the development of strong and vibrant families.  It also helps us learn a bit more about our brother Knights.
Once a year, our council also selects one of the previous Family of the Month winners to represent the council/parish as the potential international Family of the Year. The Knights of Columbus Family of the Year is chosen by the Supreme Council and recognized each year at the annual Supreme Convention.