In Service to One, In Service to All
4th Annual Holy League – Catholic Men's Conference 2019
December 7, 2019 @ 6:00 am

-

5:00 pm

$40.00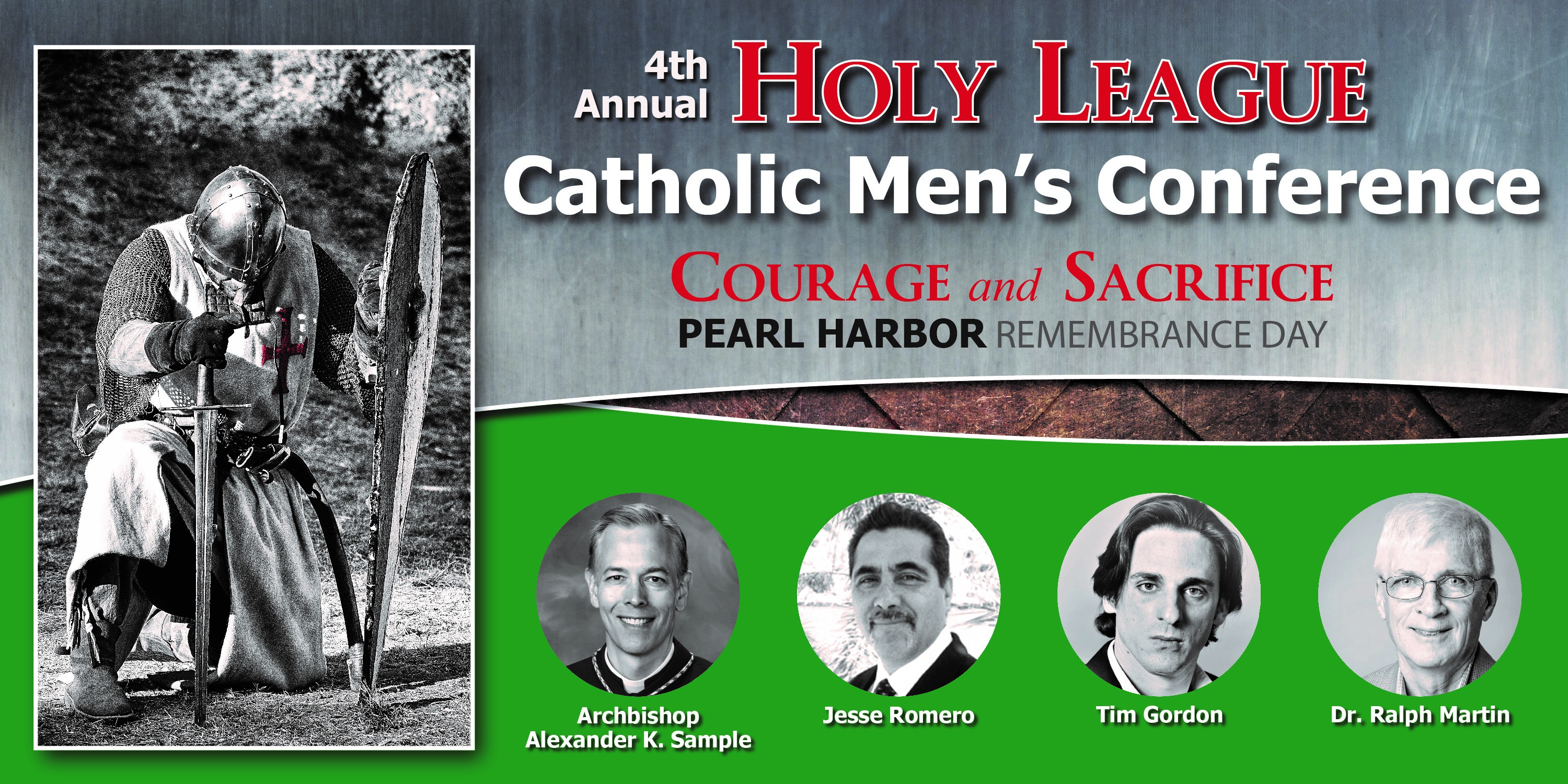 Brother Knights,
The fourth annual HOLY LEAGUE MEN'S CONFERENCE has the goal of lighting a spiritual fire in Catholic men with the Truth, Beauty, and Goodness of 2000 years of Catholic teaching! By energizing Catholic men to be SOLDIERS FOR CHRIST… they will become the husbands, fathers and sons that God has called them to be!
This conference will be an all-day event, during which there will be a SPECIAL PONTIFICAL HOLY MASS offered by Archbishop Alexander Sample. This Mass will be quite possibly be a ONCE-IN-A-LIFETIME event for many if not most of the attendees! The Archbishop will also give a talk during the conference!
Confessions will be available during the entire time during the conference as well.
Nationally (and Internationally) known speakers Dr. Ralph Martin, Jesse Romero, and Tim Gordon will give presentations.
A continental breakfast AND lunch will be provided for the attendees.
WHY SHOULD CATHOLIC MEN ATTEND THIS EVENT?
First, our Shepherd, Archbishop Sample, has SPECIFICALLY REQUESTED that Catholic men attend THIS event. It is the ONLY conference promoted by our Archbishop during which he also offers Mass AND gives a presentation!

The speakers are WORLD-CLASS Catholic apologists!

Because it is time for Catholic men to step up, "INTO THE BREACH" between what our godless society tells them to be and what our LORD wants them to be. It's time for them to fulfill their role as the SPIRITUAL LEADERS of their family!
This conference will give the GRACE via the Sacraments provided and the KNOWLEDGE via the talks given for men to DO JUST THAT!
Tickets can be purchased online at www.hlcmcnw.net
You can also purchase tickets directly by check, made out to:
"Holy League" and mailed to:
Holy League
1012 Oak St.
Silverton, OR 97381
Consider donating if you can't attend
If your council cannot attend this event, please consider a DONATION to the event to help us cover its considerable costs. WE NEED FINANCIAL HELP FOR THIS EVENT!
Donations can also be sent to the address above (checks also made out to "Holy League").
If you have questions, you can email the Conference Chairman, James Thurman (email below)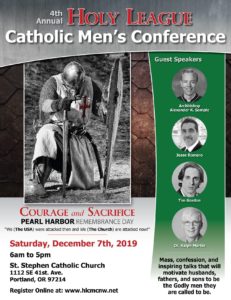 © 2022 · Knights of Columbus - St. Anthony Council 2439 - 503.765.5738 - P O Box 264, Sublimity, OR 97385